DKL space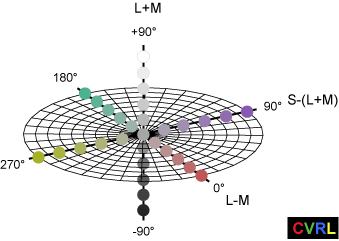 ---
Source
Figure 3.11.16 from Stockman, A., & Brainard, D. H. (2009). Color vision mechanisms. In M. Bass, C. DeCusatis, J. Enoch, V. Lakshminarayanan, G. Li, C. Macdonald, V. Mahajan & E. van Stryland (Eds.), The Optical Society of America Handbook of Optics, 3rd edition, Volume III: Vision and Vision Optics. New York: McGraw Hill.
---
Notes
Derrington-Krauskopf-Lennie (DKL) color space. The grid corresponds to the isoluminant plane, which includes the L-M (0º - 180º) and S (90º - 270º) cardinal axes. The vertical axis is the achromatic L+M+S axis (-90º - +90º). The representations of the colors along each axis are approximate, but notice that the unique hues do not align with the cardinal axes.  Figure provided by Caterina Ripamonti.
A widely used color space, known as the "Derrington-Krauskopf-Lennie" (DKL) space, in which the coordinates represent the purported responses of the three second-site colour discrimination mechanism, L+M, L–M, and S–(L+M). The modulation directions that change the response of one of these mechanisms while leaving the response of the other two fixed are referred to as "cardinal directions."
---
References
Derrington, A.M., Krauskopf, J., & Lennie, P. (1984). Chromatic Mechanisms in Lateral Geniculate Nucleus of
Macaque. Journal of Physiology, 357, 241–265.