McCollough effect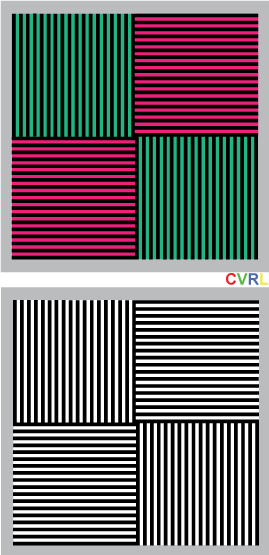 ---
Source
Figure 3.11.37 from Stockman, A., & Brainard, D. H. (2009). Color vision mechanisms. In M. Bass, C. DeCusatis, J. Enoch, V. Lakshminarayanan, G. Li, C. Macdonald, V. Mahajan & E. van Stryland (Eds.), The Optical Society of America Handbook of Optics, 3rd edition, Volume III: Vision and Vision Optics. New York: McGraw Hill.
---
Notes
McCollough effect. The McCollough effect is a well-known orientation-contingent colour aftereffect (McCollough, 1965). View the upper coloured image for several minutes letting your gaze fall on different coloured areas for several seconds at a time. Look next at the lower monochrome image. The black and white gratings will take on the complementary hue of the adapting grating of the same orientation.
---
References
McCollough, C. (1965). Color Adaptation of Edge Detectors in the Human Visual System, Science, 149, 1115–1116.